Bugman's "big kid bike" makes him fast, lightning fast - if you ask him. Poor Bitty was still riding his little trike this summer, pedaling as fast as he could and going, well, nowhere fast. I scoured Craigslist looking for a bike for the little guy, but didn't find what I was looking for. The Bugs' Daddy mentioned that maybe, the kid who never gets anything new, deserved a brand new bike for once in his poor, hand-me-down life.
As we were doing a weekly cruise through Target I noticed they had a perfect little 12" bike. It was yellow and blue, and matched our already owned dinosaur bike helmet. Buying it ensured that we would spend at least $80, when all we really went in for was, well, nothing in particular. Does this happen to anyone else at Target?? That's what I thought.
It took a total of about 30 seconds before he was comfortable. His mommy, well, it took her a good 15 minutes of running next to him, barefoot, with a baby in one arm and holding his handlebars with the other, until she calmed down. Meanwhile, the neighborhood had a good chuckle.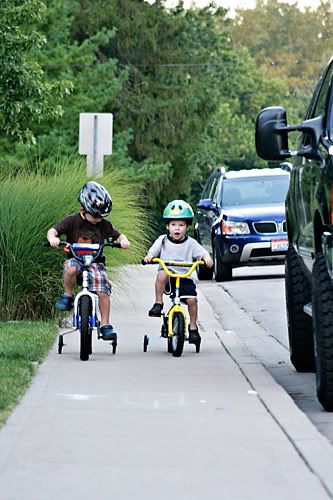 "Adex! Adex! Wait for me Adex!" Now when he pedals he actually goes somewhere, even if he still isn't as fast as his big brother.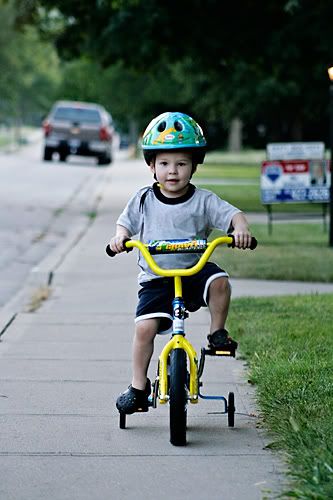 And yes, he is wearing yet another backwards shirt. Sigh.