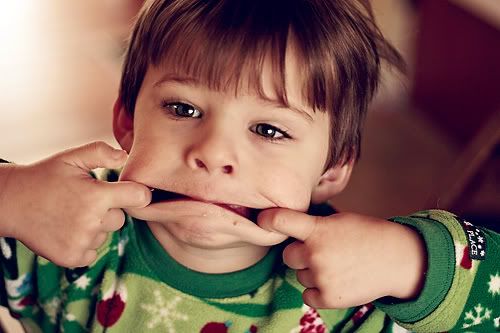 1. Loves to go to the grocery with mommy on Saturday mornings.
2. Is addicted to Horizon organic 'Bamilla' milk (served @ Starbucks).
3. Prefers going in as opposed to the drive thru.
4. Has a best friend named David.
5. Is three days younger than said friend.
6. Said friend's mommy was Bugman's mommy's freshman english teacher.
7. Hates to be the center of attention.
8. Gets very uncomfortable when "Happy Birthday" is sung (even at other people's parties).
9. Weighed 7lbs 3oz at birth and was pretty much perfect (no bias here, no sirree)
10. Gained 2lbs in his first 2 weeks of life.
11. Hated cloth diapers, but not enough to learn to use the big potty.
12. Potty trained naked in a day (wearing underwear was another story).
13. Loves everything trucks/cars/monster trucks/tractors/etc.
14. Learned his ABC's by age 2.
15. Learned to write his name at 3 (after much bribery)
16. Loves to draw, use stickers, paint, and play with Playdoh.
17. Has recently become a puzzle fanatic and can now do jigsaw type puzzles on his
19. Loves to takes snacks to share with his friends at Miss Kim's.
20. Will go to preschool next year.
21. Is super psyched about going to school with David next year.
22. Will not go to kindergarten until just after his 6th birthday.
23. Thinks that underwear are to be changed EVERY time you go to the bathroom.
24. Hates having his hair washed.
25. Is ORNERY and 100% boy.