Soooo, we've established that I've been quite the bad blogger lately (or at least worse than usual!) My dear sister has been nice enough to remind me of this on a daily basis. For example, after cleaning the living room, and reading a couple of chapters in a new book during the boys naptime today, I gave her a call pleading "I'm bored." Her reply "Well, why don't you blog something." What a ingenious idea. So here I am.
Lest you think that we haven't done anything in the past few months, I thought it would be fun to have a "throwback thursday" and share a little something from WAY back in April.
Bugman LOVES to help in the kitchen, namely when baking is involved. He may, or may not have love for sugar that slightly mirrors his mama. This particular day we decided to make brownies... for our house only. One thing that we must make clear is that when Bugman helps bake, people from outside our household are not permitted (nor would they want) to eat any of it.
My dear son comes from the school of "double dipping," as in, if I stir a little and take a lick, why not go ahead and stir some more, and lick some more, and stir some more, and... well you get the idea. Hence the germ infested baked goods that we produce are only appropriate for us... although we have no complaints about finishing them off ourselves :)
Perhaps our favorite part of baking brownies is licking the spoons AND the bowl at the end. My preferred method would be to wipe the bowl with my finger and then lick the batter from there. Bugman's preferred method... stick your whole head in the bowl.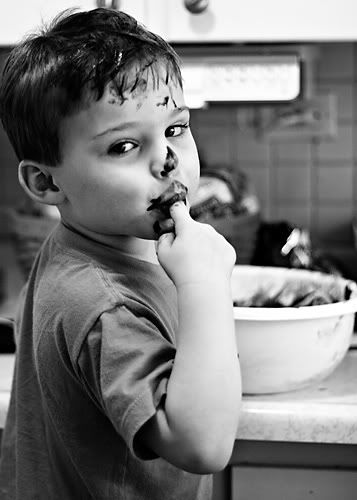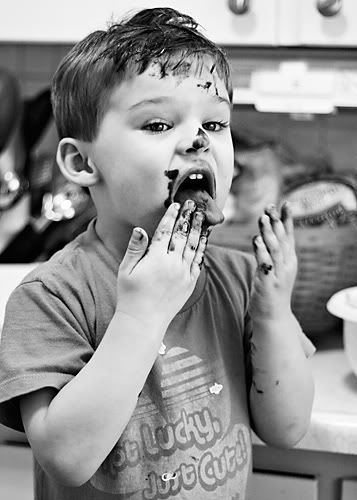 Brownie scented hair gel... perhaps we're on to something!